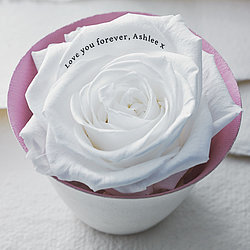 Hi there and welcome to Rococo Rose. We make a range of personalised keepsake gifts, luxury handmade bath and body products and scented candles for the home.
Rococo Rose was created in 2010 by Alexia Dwarka, a thirty-something Londoner with a passion for all things floral.
After completing a City & Guilds in Floral Design, I wanted to create a luxury and sentimental floral gift that could be personalised – just for the recipient – and sent through the post as a surprise gift. Rococo Rose was born when I took a real rose and printed an engraving of a hummingbird onto its petals.
My work has appeared in the Times Magazine, Inspired London and Brides Magazine; so whether you're a bride or searching for a gift for someone special; you can look forward to receiving beautiful complimentary finishing touches – our signature gift boxes, handwritten gift cards and gorgeous satin ribbon.
I now work exclusively with preserved roses, these are real flowers that have been treated with a natural solution so they last for at least 12 months. The roses look and feel just like fresh cut flowers and amazingly don't need any water or special storage. They can even be shipped around the world with relatively little fuss.
Discover my most popular rose designs and look out for my latest personalised pamper gift sets which can be personalised with your very own greeting.