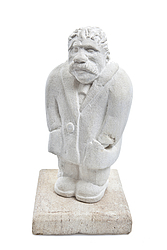 Hello there. We are a new company aiming to bring sculpture to the fore. We believe that everyone has an artistic bone in their body, some may be broken, we'll help fix them!
Rock carving is the oldest form of art known to man, so there's a rock doodle in everyone. Just let the sculpture happen.
What is a rock doodle we hear you cry? Have you ever doodled when you've been chatting on the phone, in a meeting, or a lecture? You've let your hand wander over the page with your pen and doodled almost dream like, carefree, natural? You've started with a blank page and gradually you've worked without thought and created something. A rock doodle is the same only in three dimensions. It is a representation of you, here and now. There is no plan, no scaled drawing, just you and your thoughts. Pick up your rock and tools and start creating. Go on, loose yourself in a rock doodle.
If you are looking for something to buy for those artistic friends, students and generally those who have everything, or for those you don't know what to buy for, why not treat them to one of our Carving kits? Give someone a present that's interesting, different and creative. Buy a kit for yourself too, why should everyone else have all the fun?! Our moto is 'Inside every rock there is a sculpture waiting to happen', and you're the one to discover it. We wish you well on your creative journey with us.
Our picture entitled 'Grandpa' shows what is possible to create/carve using one of our Carving Kits. This was carved for 'Grandpa's' birthday
Our Rock Legend Tshirts are a great addition to any wardrobe - show the world your creative side, wear the words of the great masters and feel inspired - any day's a good day to wear a Rock Legend 'T'
Rocktapper? We're all about tapping rocks of course!