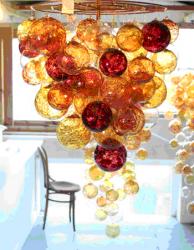 Inspired by the beauty of individually blown glass spheres, each Roast chandelier is handcrafted to order so no two pieces are the same.
This classic combination of glass and light suits both contemporary and traditional interiors and for those looking for something bold and beautiful, a Roast glass chandelier will make a truly stunning and original centerpiece. When lit they produce gorgeous shadows around the walls and ceilings. And unlit, these chandeliers become stunning glass sculptures which you will never tire of looking at.
The chandeliers are made to order and are available in two widths - 55cm and 75cm and five lengths - 60cm, 75cm, 90cm, 120cm and 150cm and larger chandeliers can also be made on request. Roast also offer more than 15 colour combinations, please get in touch if you have any specific requirements!