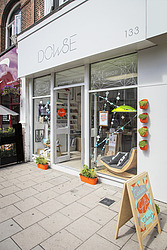 DOWSE is the design company of Susannah Dowse. A boutique brand based in Brighton where we design and make our range from our studio and shop.
We offer you a commitment to making carefully designed, thoughtfully made contemporary jewellery and lifestyle products and always made in Britain.
Beauty in an object comes in part from how it is made and by whom.With this in mind we will never send our designs to a faceless factory in a far flung place where we can't be sure someone isn't being exploited for our benefit. We will use local businesses with people we know are fairly paid for their work. We won't be racking up thousands of air miles to get our products to you.