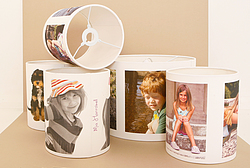 Welcome to RhubarbSally. I make bespoke lampshades and I am delighted to be invited to share them with you.
I am passionate about lighting and creating beautiful elegant shades. Every lampshade is individually made with great care. Photographs are carefully positioned within a template to display them to their best. The shades are all unique with individual memories and treasured moments.
The photo shades look stunning in all rooms and are particulary popular in childrens bedrooms and family rooms. They make fantastic gifts for grandparents, christenings, wedding anniversaries, and many more occasions. As well as being a perfect present for yourself providing a beautiful way to display your favourite pictures.