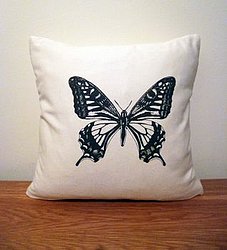 Rhoda Elizabeth presents a collection of carefully curated Soft Furnishings, Art prints and Handmade Jewellery.
The bespoke wallpaper and soft furnishings are elegant, functional and comforting. Showing a strong ethic towards fair-trade and sustainability designs are inspired by human nature, particularly our sense of humour and appreciation of our natural world.
Rhoda Elizabeth has a conscious, ethical approach when designing, the aim is to create products that are comforting on a deeper level than just the physical finished article.
Designs are manufactured in England, supporting local economies and helping to sustain traditional crafts. Fabrics used are carefully selected, such as cottons that are certified organic. As well as silks, grown and hand-woven in India, which are sustainably harvested from the wild so no insects are killed. Both are made under fair and safe working conditions that must comply with the Code of Conduct as contained in the Global Organic Textile Standards.
On top of supplying the ready-made products Rhoda Elizabeth offers a bespoke design service, open to customising current designs and working on completely new commissions; any thing from altering colour-ways to creating a new, personalised wall mural.