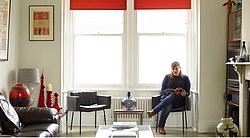 Retropolitan is the brand and raison d'etre for Brighton based Lesley McNamee. Born into an antiques background and having started her career in the early 1990's with a bric-a-brac stall at Camden Market, Lesley has progressed to being one of the go to specialists on mid century modern ceramics and glass with her pieces featured in many interior magazines and trade bible Millers Guide.
Having spent her young years working on markets and being a keen collector Lesley decided to make her passion her job and founded Retropolitan in 2007.
Lesley looks far and wide and visits markets all over Europe to bring you her unique edit exclusively for Not On The High Street. The items she chooses here are collectable and often sought after so you can own that amazing one of a kind piece. For her, it's most important that her selection is authentic, looks stylish but should accrue in value too.
Retropolitan's original vintage and antique range spans many decades. From modernist retro to the wonderfully kitsch, the pieces represent many bygone eras but can still feel and look timeless in today's modern home.
Ranging from a piece of tableware that evokes a childhood memory to a unique selection of "mantiques" for that hard to please gentleman to a collectable piece of ceramic with a heritage - she aims to keep her collection varied, eclectic and interesting. Lesley updates and replaces her sold stock on a regular basis.