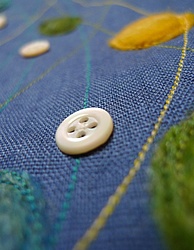 I thought making films was more glamourous, that is how I came to be a felt maker and designer/maker!
An odd start, but that is how it began, you have two choices, and initially I choose film, coming back to textiles when I wanted to make things for people to hold, love and cherish, and here we are!
My first bags were presents for teachers when I wanted to make something special, made with love, and it grew from there.
Everything is still made with love, and every piece is unique and made by me.
Making felt is like magic, from a mass of fluff to a piece of fabric that is original, soft but hard wearing, and the most wonderful colours imaginable.
Put that with the combination of linen, needlecord, denim and vintage mother of peals buttons, some stitching and little pieces of textile magic are born.
I hope that you will enjoy them just as much as I love making them!