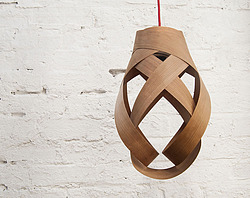 Randomlights are hand crafted, contemporary lighting and lampshades, made in Brighton from the finest wood veneers.
With a strong emphasis on sustainability and the impact of each product, randomlights are made with high quality veneers from an FSC and PEFC regulated source.
Randomlights designs embrace organic, highly detailed and sculptural shapes, giving each angle of the shade changing aesthetics. When the light shines through the veneer, it showcases the beauty of the grain and casts intricate and decorative shadows on walls and ceilings. Perfect to complement any room, window or as a feature in itself, randomlights creates unique focal points that will illuminate your home.
The designs draw influence from 20th century Scandinavian designs with their minimalist functionality, but with a dash of creative woodworking.
Randomlights are created by Inga-Lill Aker in Brighton, a graduate from University College Falmouth with a degree in 3D Design for sustainability.
Welcome to the shop!