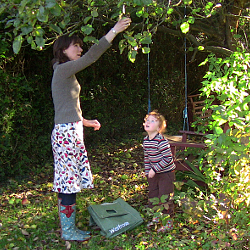 rain starts play was created in 2012 by Josephine Murray, through a quest to find stylish, colourful, high quality, practical and above all ethically made children's clothes and toys for her daughter, Kirstie. We've brought together the most colourful, ethically made and eco-friendly children's clothes, toys, gifts and nursery furnishings from around the world into one exciting kids' collection bursting with bright colours, character and fun!
Specialising in things made in Britain and Europe, we've sought out the best new and well-established designers and makers to bring you (variously) ethical, eco-friendly, vibrantly patterned, award-winning, retro-styled, upcycled, handmade, hard-wearing, long-lasting, nothing-short-of-fabulous kids' stuff.
Our clothes are designed for play, whatever the weather, reflecting our belief in the importance of outdoor play for your child's development. Our clothes are stylish yet machine washable, easy for children to put on by themselves, mostly unisex, and durable, so they can be handed down and passed on. We only sell Slow Toys, so children use their imaginations rather than batteries. Our products are designed to be fun, safe and easy to clean, without sacrificing good design. Chief-tester Kirstie and Josephine can testify how well they withstand frequent use and washing.