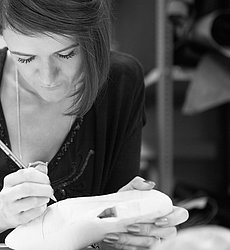 Rachel Simpson loves shoes. After designing for the high street for several years, her first collection of bridal and occasion shoes launched in 2008, inspired by a love of all things vintage. The brand is now loved by vintage-lovers and fashionistas alike, for something a little different.
Beautifully handmade in Spain, the collection is as comfortable as it is stylish, with a selection of wearable heel heights and full leather linings. Fashionable silhouettes are combined with vintage-inspired detailing to create truly unique shoes which can be worn long after the wedding or occasion.
The accessories collection is handmade in the UK in stunning diamante and pearl, and means shoes can be beautifully customised to co-ordinate perfectly.
We want our customers to fall in love with their shoes, be comfortable all day and dance all night! Because we want all Cinderella's to go to the ball.