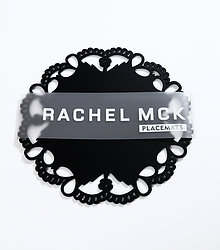 I have always loved every aspect of art and design, since starting my own gallery at the age of 10 and charging my family 5p to enter, I knew I was destined for something. I set up my first workshop 3 months and 1 boring job after graduating from the University of Ulster in Belfast. I predominently made jewellery, but I had a love for interiors and products for the home which lead to this range of placemats, coasters and Christmas products. I'm a big child when it comes to Christmas so it was a natural progression to design and make products for the season.
The excitement of sourcing new materials and the experimentation with them inspires me to produce original and innovative work. Transparent and opaque colour influences my designs, plastics allow me to explore this. Simple and uncomplicated shapes and the idea of duplicating these shapes also form the basis for my work.
I continue to work from home in Belfast, in between nursery runs and nappy changes.
If you have any questions, please don't hesitate to contact me. Happy shopping!