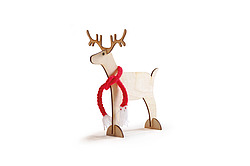 I started my business in 2004 primarily designing and making jewellery from polypropylene, acrylic, rubber and silver. I studied at the University of Ulster in Belfast and graduated in 2003. My first workshop was in my parent's garage and I continue to work from my own garage, in Belfast. I also have a laser cutting workshop at my parent's garage in Lurgan.
I make necklaces, bangles, earrings, rings, brooches and cufflinks. Two years ago I developed a range of coasters and place mats made from polypropylene and acrylic. This range is in development and new designs will be added, so keep your eyes peeled! I design and make everything myself and do all the laser cutting myself.
If you have any questions, please don't hesitate to contact me. Happy shopping!