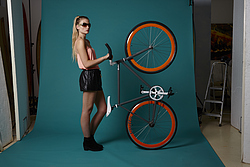 We believe that the fixed-gear single-speed bike market is full of well-known brands selling uninspired, low-quality bikes at extortionate prices. Having been keen cyclists for all of our lives we think you deserve better.
Fixies exist at the unique intersection of thoroughbred track racing and urban fashion. Quella was created to encompass the best of both. We combine vintage inspired, minimalist British design and 21st Century track technology to create elegant, timeless bikes that function at the top end of the fixie market and, importantly, don't break the bank.
Since our launch Quella has evolved into a company with big brand capability and small brand personability, with customer service at the forefront of all we do. Our bikes are hand-built in our 'Old Egg Shed' on the outskirts of Cambridge by our experienced team of bike-builders, allowing you almost limitless freedom in the builds that we can undertake.