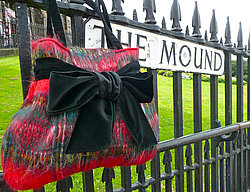 Queenie is a brand by designer-maker Margo Elder and each product is created in her home studio near Edinburgh, Scotland. The brand is young, fresh and quirky and uses exciting new design ideas to create exclusive tweed accessories for you, your home and even your dog.
Influenced by the history and heritage of traditional Scottish tweed but also inspired by the vibrant new colour range now available, Margo brings an innovative twist to tweed in these distinctive handcrafted products. Whilst remaining true to the high quality image of Scottish tweed these accessories stand out from the crowd through their unique and witty sense of style and exceptional attention to detail.
Margo has created interior products and accessories for a number of companies and brings a unique styling approach to each brand image. Her work with individuals has proven to be her inspiration for her Queenie range of products. Please watch this space for new additions.
The majority of Margo's designs under the Queenie brand are made from Harris Tweed, this is a very special tweed which is hand woven in the Outer Hebrides and carries its own unique label. Special requests are also welcomed.
'I really hope that my customers will enjoy using my designs as much as I do in creating them', Margo.