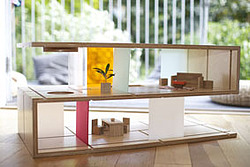 The award winning Qubis range of dual purpose furniture and toys has been developed by Amy Whitworth.
Inspired by Mies van der Rohe and Bauhaus aesthetics, Qubis has been created to offer beautiful modern designs to suit a modern, design conscious family. Through extensive research (speaking to lots of friends and parents!) and through our own experiences, where to store toys in the living room for the 'design aware' family is a constant issue. The new Qubis range has been designed to solve this, offering furniture and toys that can remain the centrepieces of your living room, be played with by the children and admired by the adults.
Qubis Haus is a beautiful modern coffee table. Grooves in the table take sliding panels made from wood and perspex enabling the Haus owner to create their own bespoke table design. For the kids there are panels that transform the table into a dolls house, space station or palace. The panels, designed by Qubis or by designers such as Ella Doran and Red Urchin, slide into any formation to make the table into a variety of environments for the child to invent their own play. The range also includes oak furniture and characters.
Qubis also accepts bespoke commissions.