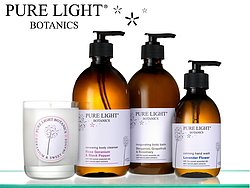 We are a British company.
The three vital beliefs that are key to our aromatic botanical products for bath, body and home:
Purity - We use no artificial ingredients, only natural fragrances and colours, GM free plant extracts and essences, and preservatives derived from natural sources, all accredited to the highest standards by the Soil Association, Aromatherapy Trade Council and The British Herb Trade Association.
Provenance - We work with small UK-based producers whose botanical oils, essences and extracts are accredited to the highest standards not only for quality and purity, but ecological sustainability and ethics. All our natural ingredients are derived from plants grown and distilled by farmer members of a co-operative.
Possibilitiy - Our products each have their own unique therapeutic properties, to help nourish and nurture, calm and soothe, renew and restore.
Pure Light Botanics Bath & Body range is free from SLS (Sodium Lauryl Sulphate), SLES (Sodium Lauryl Ethanol Sulphate), Parabens, Silicones, PEGs, Synthetic Fragrance & Colours. No animal extracts. Never tested on animals.
Our luxurious natural aromatherapy candles contain only high concentrations of essential oils, 100% paraffin-free plant wax and lead-free cotton wicks.