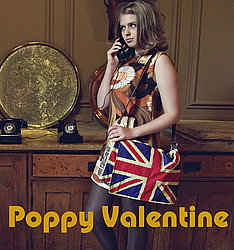 Poppy Valentine established itself in 2005 after the designer's vintage fabric collection outgrew her living space. We opened our first studio and boutique in Portobello Road, London in 2006 where our creations became part of the buzz amongst the vintage aficionados and shoppers from the world famous Portobello Market.
Our love of the environment and British heritage is very important and for this reason Poppy Valentine products are designed and put together from fabrics which are truly original, beautiful and have their own special story.
The "feel special" factor is created by the fact that every Poppy Valentine product is a limited edition, and quite often a one off. Poppy Valentine represents the beauty of authentic vintage fabrics. Each product is lovingly handcrafted and the fabric personally sourced. We look for feminine florals of the 40's, the abstract barkcloth prints of the 50s, bohemian hippy chic of the 60s and the psychedelic swirls of the 70s.
We hope that you, or the recipient of any of our products, will see what we're trying to achieve with our business. We're sharing our passion for classic designs in wonderful colours in fabrics that have stood the test of style and time and are a fantastic tribute to the many great print designers from the middle of the last century.