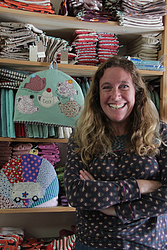 Poppy Treffry was founded in 2004 by Poppy and one cranky Singer sewing machine that her granddad had found on a dump! Poppy put together a small collection of bags, cushions and tea cosies which were quickly snapped up by galleries and boutiques locally and across the UK.
We now produce a much larger range of gifts, homewares and accessories all featuring Poppy's quirky designs and a sense of humour! Our products are either handmade in England or sourced from UK manufacturers. We have trained a team of lovely outworkers to stitch our beautiful embroidered products and they all work vintage Singers. Each stitcher gets a box of carefully cut pieces which they then embroider and stitch up and bring back to us all done, constantly surprising us with their quality and attention to detail.
Poppy Treffry products grace the shelves of some very fine stores across the UK, USA and Japan. You can see bespoke collections in Fortnum and Mason, Bettys tea rooms and Anthropologie and it's a real honour to work with these big boys! But we also sell to some gorgeous galleries and boutiques who are real partners in selling the Poppy Treffry dream of high quality hand made and UK made products that make you smile! We also have our own shop in the heart of popular tourist destination, St Ives, Cornwall.