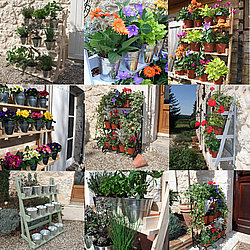 At plant theatre we help you create an immediate impact, we made our debut with the Plant Theatre – a three-tier flower and herb stage that organises and displays potted plants to maximum effect but with a minimum of effort. Available in powder coated metal or wood (from sustainable sources) in a fabulous range of colours to suit any home or garden.
They require no assembly, come flat-packed and take a minute to unfold, no tools required.
We also have the zinc pot set which is a perfect companion to any theatre.
Back stage, new products are constantly on the drawing board and we have sourced other objects for their originality and beauty, which we are delighetd to showcase here.