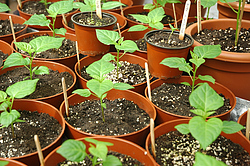 Plants From Seed is a new and fun way of growing the plants you love from seeds. Every box contains all you need to grow fun and exciting plants at home. From meat eating venus fly traps to the hottest chillies, all in a convenient gift sized box.
All of our plant kits are beautifully hand packed on the day of dispatch to ensure they arrive looking as beautiful as they possibly can with the freshest seeds possible. Our plant kits make great gifts for all occasions.
With over 100 plant kit combinations we're sure you'll find something for you to grow. Our kits include the Venus Fly Trap, Sensitive Plant, Naga Chilli, Scorpion Butch T Chilli, 7 Pot Jonah Chilli, Scotch Bonnet Chilli, Jalapeño Chilli, 7 Pot Douglah Chilli, 7 Pot Primo Chilli, Apache Hot Chilli, Satans Kiss Chilli, Naga Morich Chilli, Christmas Tree, Coffee Plant, Golden Barrel Cactus, Money Plant, Giant Pumpkin, Snore Ease, Giant Sunflower, Swan Gourd, Beer Plant, Green Tea and Cape Sundew.