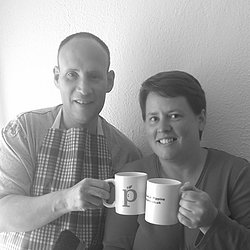 Welcome to the Pippins online store, where you will find custom gifts that are guaranteed to bring joy to those you hold dearest.
Pippins started life in 2000 in a spare room at founder Michelle's family home whilst she was enjoying maternity leave. It was this beautiful North Devon home beside the sea that gave its name, 'Pippins, to this family business, which sells an enviable collection of exclusive personalised gifts and unique mementos to those searching for an extra special gift.
Pippins originally sold their gifts and mementos at the historic Pannier Market in Barnstaple, where many an early and chilly morning was spent wrapped up warm, heater hidden beneath the table, while they excitedly shared their wonderful exclusive selection of gifts with smiling customers. Those cold but fun mornings are where the adventures really began!
Since joining Not on the High Street in 2006, the family may have outgrown their inspirational original home but its namesake business has grown phenomenally. Pippins is now proudly homed in its very own little bricks and mortar workshop in the picturesque village of Oakley in Hampshire.
Amongst their thoughtful collection of handpicked gifts you are certain to find that perfect something for your loved ones. From natural wood chopping boards and personalised glass, to charming sweet bottles and delightful vintage aprons, Pippins have absolutely every occasion covered. Their easy in house personalisation service means that every item is ultimately perfect for you to give, with your own custom designs and messages added to each and every item.
From the big, life-changing moments of weddings, birthdays, and house warmings, engagements, christenings, and back-to-schools, to the small but equally important just because ones, their distinctive range is the perfect way to show your friends and family just how special they are to you.