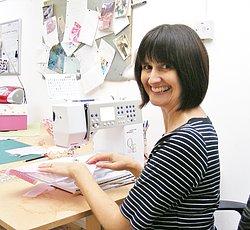 Pipany is a business which grew out of my passion for creating with beautiful fabrics and is inspired by the things I love - my family, my home and the everchanging Cornish landscape.
Whether you are searching for the perfect present for a child, a gift for someone special or just fancy treating yourself, you are sure to find what you are looking for in the highly individual range of Pipany products. From pretty and practical bags for both children and adults to the gorgeous wall hangings and scented lavender hearts, pipany offers something for everyone.
All our designs are unique and many feature personal touches such as herbs, berries and lavender gathered from our garden along with freehand embroidery on the bags and wallhangings. As such, there may be some variation in the finished product or the fabric used.
I hope you enjoy browsing through our range.
Pipany x