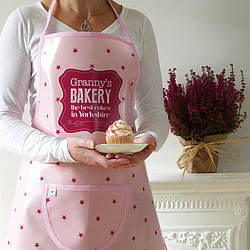 A deliciously practical range of personalised aprons for men, women and children.
Our wipe clean oilcloth aprons are available in a choice of fabrics and customised with your choice of name and message. A perfect choice for choice for messy cooks and children who need a little extra protection whilst creating culinary masterpieces!
We can create bespoke messages and provide proofs of graphics on request.
Pinnikity is a small independant company based in the Bronte hills of West Yorkshire. Production takes place in house or by a skilled team of local workers. Each personalised message is individually printed and then coated with PVC coating to ensure your apron is completely wipe clean and practical.