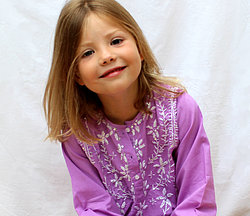 Pink Bamboo is a small London-based online boutique dedicated to bringing you gorgeous girl's clothing with attention to detail. Established in 2004, we sell clothes and accessories that make little girls feel special.
The Pink Bamboo collection is refreshingly pretty and features trend-resistant and logo-free nightwear in natural fabrics, beautiful Chinese-style silk dresses, embroidered cotton kaftans, embellished skirts and tops, beaded Morrocan slippers, summer dresses, cardigans and more for ages two to 10 years.
With bright colours and patterns, special prints and embroidery details items can be mixed and matched across the range to create a fun wardrobe for little girls.