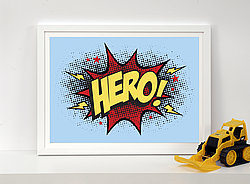 Welcome to Peters and Janes. We produce original and stylish art with a retro feel.
Nick Peters and Nick Janes have known each other for a long, long time. A time when conkers were currency and the only pint they enjoyed was a warm milk before bedtime. A long, long time later they are still friends with a shared passion for art, design and great 'stuff'. They've also been working as Graphic Designers for 20 years, so they really do know their 'stuff'.
Peters and Janes came about when Nick Peters was decorating his son's bedroom. In a brilliant display of procrastination over painting the ceiling, Nick came up with an idea for wall art that was different, stylish, and had a cool, retro feel. Nick Peters got Nick Janes on the blower and that's when they produced 'The Ninety Nine Series' of quality prints. Peters and Janes 'The Ninety Nine Series' art. Designed, printed and made by Nicks in England.