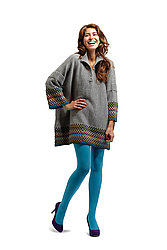 HUMM Alpaca Knitwear, home to gorgeous and luxurious garments ethically produced in Peru. The material used in HUMM Alpaca Knitwear's range is a fibre that is highly prized world-wide: super soft alpaca.
The alpacas, which live high up on the Altiplano (high mountain plateau of the Andes) at 3,000 metres and higher, produce hair that is softer and rarer than cashmere and many times warmer than wool. Its use was once reserved only for Inca royalty. The garments are extremely lightweight, velvety smooth and have a wonderful lustre.
We offer beautiful clothing for women, children, men as well as homewares.
Mumtrepeneur, Amanda Ruiz, who has set up the company, is married to a Peruvian, Manuel, who comes from the capital, Lima. When they had their first child, they were given lots of beautiful brightly coloured knitwear from relatives. The gifts were ponchos, chullos (earflap hats) and cardigans which were very widely admired because they are extremely versatile clothes, being very lightweight and warm and were different from the usual mass produced fare.
HUMM Alpaca Knitwear is a member of the IAA, International Alpaca Association – a non-profit Peruvian based organisation which actively promotes the alpaca fibre. The garments sold carry the IAA license, a hologramed tag which is an internationally recognisable symbol which certifies the authenticity and quality of the fibre.