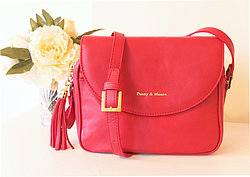 Based in Somerset, Peony & Moore was established in 2009 by mother and daughter duo, Lucy & Pam. We design our collection based on a balance of thoughtful design & style alongside the most luxurious soft grainy leathers & beautiful hardware. We believe your handbag is an extension of you, therefore it needs to reflect your style but be utterly practical with its functions and comfort. We use fabulous leathers and always pop in some bright colours to our collections as well as more classic ones.
We have recently collaborated with fashion icon Barbara Hulanicki, OBE, to create the HULANICKI handbag collection. These designs show off Barbara's iconic style & are not only affordable but versatile for everyday wear.
We very much hope you like our new SS16 collection handbags and we will always provide personal customer service, so drop us a line if you need any help. Our team will always chat through designs with you & help you make the perfect choice.
IN THE PRESS
Lucy Clayphan, the co founder, was interviewed on BBC Radio 2, Jeremy Vine show as well as BBC Radio Five Live . Both commenting on the success of the Peony & Moore brand in a difficult economy.
Our company was featured in Woman & Home magazine (March 2013 edition).
Our designs have been featured in The Telegraph, The Lady Magazine, The Independent, RED Magazine, Easy Living, The Daily Mail, YOU Magazine, ELLE as well as worn by celebrities, most recently Kate Nash at London Fashion Week.
Finalists of the Deborah Meaden Local Business Accelerators Awards
Finalists for Wiltshire Business of the Year Awards - New Business 2012
Finalists for New Business Category for Bath Life Awards 2012.
We very much hope you like our collection and we promise to provide personal customer service.
Best Wishes
Lucy & Pam