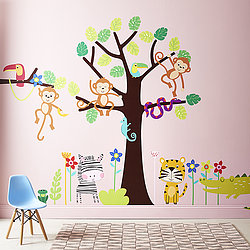 Welcome to Parkins Interiors
Being a husband and wife led team, we can't help but be inspired by our children and their love of animals and the natural world around them. In addition to our fabulous range of inspirational wall sticker quotes, we have created a series of designs featuring bright and colourful trees and wildlife which will greatly enhance your child's bedroom or play area, to create a stimulating and peaceful environment that they will enjoy for years to come.
All of our wall stickers are crafted to order from repositional vinyl, using out top of the range HP Latex printer. Latex inks are the only inks that are not only scratch and waterproof but enviromentally and child friendly.
Our wall stickers have been used in Birmingham and Brighton's Children's Hospitals aswell as numerous nurseries and schools.
We refuse to use Solvent inks which are dangerous for the enviroment and to children.
As a small team of designers and wall sticker experts, we are constantly developing new and exciting inspirational products.
When shopping with Parkins Interiors, customers can expect high quality, amazing value and excellent service as standard.