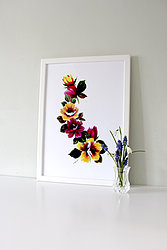 I am proud to present 'Once Upon A Tea Cup' by me, London based designer Sarah Harris.
Always loving the Vintage, the beautiful and the eclectic, it was an obvious starting point for me to inspire my new collection of artworks - which I hope you love! Having achieved a Batchelor of Arts in Fine Art and following a career in Interior and Graphic Design I have finally put my knowledge and passions together to continue my Once Upon A Tea Cup story.
So our collection of..what I call..'Modern Vintage' artwork has been inspired and developed directly from vintage crockery. Lifting the beautiful graphics and pattern and juxtapositioning them against each other to form new and fresh prints.
New designs and personalisations are being explored and we cannot wait to continue our development with the Not On The High Street team.