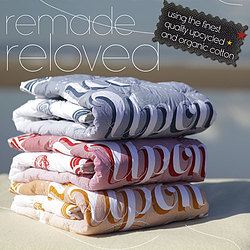 A design duo with backgrounds in fine art and illustration, we make eco-friendly children's furnishings using upcycled, organic and vintage fabrics. Our upcycled cotton comes from Virgin Atlantic Upper Class airline duvet covers, 600 thread count Egyptian cotton – remade, reloved.
Our designs are traditionally silk screen printed using non toxic dyes and produced exclusively in limited edition runs. Each collection is inspired entirely by our own artwork, an eclectic mix of modern graphics and vintage imagery. We use gender neutral colours that will complement a range of interiors.
As well as making the perfect addition to your child's room or nursery, our beautiful heirlooms have a great story to tell!
We've got heaps of fabric to play with, so keep an eye out for new products as we're expanding the range all the time.