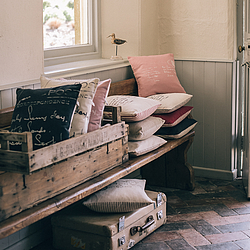 Old Favourite is about vintage inspired art and design - a collection of hand made things for your home which are unique, full of character and nostalgic.
Lucy Wakefield set up Old Favourite three years ago, but first started her obsession with colour, textiles and vintage whilst studying for a degree in fashion in the mid 1990s. Lucy then went on to work as a knitwear and fashion designer, before becoming a mum to three busy children.
When Lucy recently returned to live in Devon, she started to develop a range of handprinted textiles, using imagery from her collection of vintage postcards, and wooden print blocks. Lucy's passion for interesting handmade things has formed the basis of Old Favourite.
Old Favourite pieces include vintage paper birds, (featured in Country Living) printed cushions, tea cosies, tea towels, lavender hearts, bone china cups and striped peg bags.
Because Old Favourite pieces are handmade and handcrafted, there may be small variations from colours shown, and vintage button and ribbon colours may vary, we feel this adds to the charm of these unique pieces.