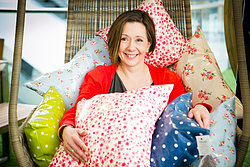 Hello! We are an award winning British Company, and everything we sell is made entirely here, in England. Our aim is to make quality products so your time spent outside will be filled with colour and comfort.
We started Oily Rag by making cushions that you can leave outside in the rain. This was a bit trickier than it sounds, involving lots of research, and filing of patents to protect the special valve that we had invented! That was six years ago and since then our range of products has grown quite a bit; but we have always maintained our core belief of 'making good quality British products to be proud of'.
Everything we make is from oilcloth (hence the name!) and last year we finally designed our own fabric range, which is exclusive to Oily Rag.
The outdoor range has expanded into tablecloths, doorstops, bunting, picnic rugs, kneelers and pruning bags, all with a twist on the conventional of course!
2016 will see us launching some new products with a slightly different emphasis. As ever they are made with functionality, practicality, style, and quality in the forefront of our minds. Three sizes of wash bags, two shapes of pencil cases, aprons for adults and their little helpers, peg bags, coin purses, and an extremely useful storage box.
So go on - Glam up your Garden - Kitsch up your Kitchen, or simply treat someone who deserves something different and better!