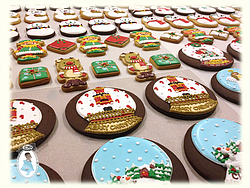 Oh my little land of freedom to create, Fly with my iced biscuit wings.
Oh My Little Biscuits specialises in handmade decorative hand iced biscuits, offering a range of uniquely designed quality biscuits fit for many different occasions. I love to do unique designs with specially custom made cutters for my little biscuits. I currently make vanilla, chocolate and almond biscuits.
As my biscuits are all handmade, the colours may not be exactly the same as pictured, however I will always do my best to maintain the highest quality for all of my valuable customers.
All my biscuits are made to order especially for you.
I hope you will like and enjoy my creations!