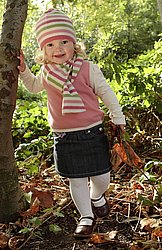 Ocabini Kids combines classic styling with contemporary design to create luxury cashmere for children and babies. Our cashmere is super-soft, light-as-air, value-for-money durable and wonderfully warm. It comes from the fine undercoat of goats that thrive in harsh, dry mountainous conditions, but our clothes are made for easy living.
Goats may live in herds, but we prefer clothes that are more individual. Each garment is hand crafted by skilled and talented people using traditional methods. Using eco-friendly Swiss dyes our expert Nepalese dye-master measures and mixes the pigments to achieve unique colours and our yarn is hand-dyed, sun-dried and hand-spun.
The knit-master calculates the pattern for each garment and oversees experienced knitters who create our designs on hand-operated machines. Our garments are unhurried and from time to time show slight variations that come with individually made items.
Our factory is small and family-run. Salaries start at four times the national average wage and all overtime is paid. No children are employed, working hours are regular and national and religious holidays are observed. We are proud of our staff and the quality garments that they produce.