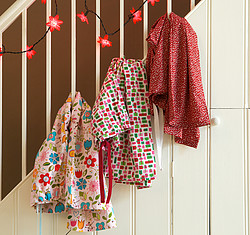 At Nutmeg, we're passionate about beautiful prints and use them to make gorgeous pyjamas, nighties and sleep shorts out of the softest premium and organic cotton.
Our pyjamas are all about quality, style and comfort. The cut is generous, but always flattering and our tops are made for easy layering. Our pyjamas are unique and feature additional touches of luxury so you'll stay stylish whether you dive into them at the end of a long day, or wear them around the house.
Each pair is from a limited range, making them all the more special. We update our range regularly so keep checking back to see what's new in store.
We use organic and Fairtrade cotton where we can, and only work with ethical suppliers. All our pyjamas, nighties and sleep shorts are made in Britain and our coordinating tops are certified 100% Fairtrade.
So whether you snuggle up in cosy brushed cotton, or breeze about in floaty organic prints, we're here to help you style up your downtime. Enjoy.