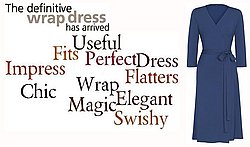 Years of design experience has gone into creating NoLoGo-chic's beautiful range of dresses. Made in small runs in Italy to maintain a sense of uniqueness. They fit and flatter most shapes and sizes. A dress is such a gorgeous garment to wear, it should bring you a sense of comfort a well as beauty. Dressed up or dressed down, discover that feeling today with a NoLoGo-chic dress.
We have also designed the definitve wrap dress which is a best-seller. New styles, prints and colours are constantly being added to the range.
Designed to be something of a life-saver for a quick occasion dress.
Our dresses are designed to keep you chic all through the week, they are definitely not on the high street.