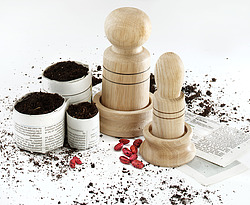 Welcome to Nether Wallop Trading. At Nether Wallop Trading, we design and sell eco-friendly, sustainable and innovative products for the garden and home.
We base our designs on practicality combined with functionality and an attractive look and feel, and often take traditional ideas and add a contemporary twist to them.
We have an extensive range of high-quality garden tools and gifts, many of which are made from sustainably-sourced (FSC) oak. Our paper potters, designed by us some 15 years ago, are award-winning. Our innovative and practical herb dryer, designed for contemporary living, was shortlisted for Product of the Year at Chelsea 2011. Our attractive range of fence post protectors in the shapes of British garden birds is stunning. And our latest addition, a large flower press, makes an awesome present.
Our products are designed to last, to be used, and to add 'colour' to your home and garden. And many of them make great gifts - for yourself or for someone else!