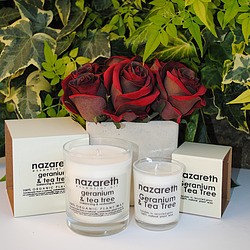 With a background in weddings and silks, Yvonne Nazareth has created the ultimate range of fine pamper and lifestyle gifts.
Our range is inspired by great design and wonderful quality making perfect gifts for someone special...or yourself!
We all lead busy, hectic lives and it is important to sometimes treat ourselves to something special because we deserve it!
Our sumptuous pamper products are hand made in the UK using only the finest ingredients and essential oils, as is our natural wax candle range.
After much searching we have found a wonderful range of leather bags and purses which are very stylish but also very practical.
The By LouLou Smart Little Bag (SLB) range offers great quality, well designed products at very attractive prices!