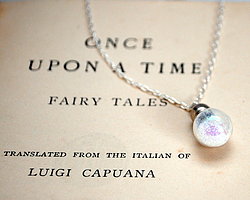 Welcome to Naturally Heartfelt and a store of magical and meaningful jewellery and gifts imagined and made by Stephanie Wheeler in a quiet home studio space in Falmouth, beautiful South West Cornwall.
Inspired by words remembered, heard or read and worked on in between walks along the lovely beaches and coast paths.
Created with the warm hues of radiant rose gold, lovely sterling silver and other hand-picked materials, many pieces in this range of earrings, pendants and bracelets are exclusive to Notonthehighstreet.
Inspiration comes from lines of poetry, words of a song or text from a favourite book, especially this all-time favourite 'The Secret Garden': "Being alive is the Magic. The Magic is in me ... It's in every one of us."
Thoughts and words (written as well as spoken) are sound energy and can deeply affect our mood and well-being. Using words with positive messaging can bring this positive energy into our life, to empower and uplift.
It is hoped that you will love your purchase, so please get in touch with any queries, and it will be a pleasure to help you.