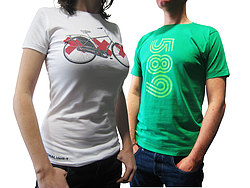 Here at NATIONAL identi-T we're breathing new life into the concept of the national shirt. Replica sports tops lack versatility and national colours stifle creativity.
Our response is the 'new national shirt'! We depict countries using iconic motifs that are universally recognisable. Firstly, we want to appeal to those folks wanting a more subtle and stylish way to wear their pride. But we're also reaching out to you if you're a fan of one of the themes or identify with a country other than your native land. The result? Wearers around the world spreading a beautiful message of global unity...
Fashionable, memorable, and with global unity in mind. To cement this, we are supporters of Medecins Sans Frontieres. Wear the world!