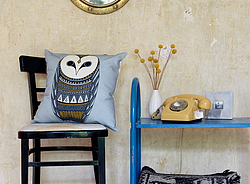 Natasha Lawless Design is a surface print design studio based in Hackney, London. British designer Natasha draws inspiration from her Finnish roots, with its strong tradition of clean-line design, as well as from ethnic folk-art from around the world. She launched her business in 2011 and has been busy ever since!
Predominately we create home furnishings and accessories such as wallpapers, tableware and cushions, as well as bespoke items. We also produce a small range of gift ware items.
Largely our designs begin with hand-drawn illustrations that are then worked on with great care, to create beautiful and imaginative products for the home and beyond.
We want our goods to live a long and happy life, to be shared and adored.
Everything we sell is made in the UK.