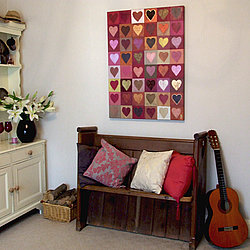 I produce stunning statement paintings on canvas and beautiful handmade designs for every occasion. Each artwork is completely hand painted and finished to the highest standard.
I have always had a passion for art and grew up in a creative family. Since graduating with a BA (hons) in Graphic Design & Illustration in 1991, I have worked as an artist and designer, creating original paintings, personalised artworks, greeting cards and designs for the giftware industry.
By using different media and innovative techniques, each artwork is unique and completely handmade. My palette is characterised by opulent jewel colours, shimmering metallics and edible neutrals.
My aim is to harness the positive elements of life in my work, to reflect the qualities that really matter to us all: love, joy and passion!
Whether you are looking for a statement piece for your room or a special gift, choose from my current range or request a unique, bespoke design.