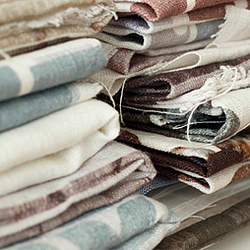 Nancy's Not on The High Street shop has a limited product range so please visit Nancy's webiste for her whole range of products and fabrics www.nancy-straughan.com
Established in 2013, Nancy Straughan Printed Textiles produces beautiful homeware and accessories crafted from her own unique range of organic printed fabrics. Nancy focuses on combining classic sophistication with uncompromising attention to detail for each print collection and product. Inspired by the motifs seen in Scandinavian and 1950s textiles she creates simple and refreshing contemporary products for you and your home.
Sustainability is at the heart of what Nancy creates. Each pattern is printed onto ethically sourced textiles and every single product is made in England. Rather than letting the designs follow trends, each print and product is created thoughtfully to last for years to come.
Nancy strives to be as transparent as possible with regards to sustainable and eco-friendly practices. The desire to live and work in a way that is kind to the earth has led to many positive choices for Nancy; everything from inks, print fabrics, down to the packaging of your items are kept as eco-friendly as possible.
Nancy prides herself on creating handmade products. With focused attention to detail at every stage from design to delivery, Nancy ensures you are always happy with your purchase.