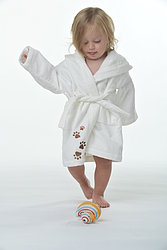 My Munchkin unique, award winning hooded baby apron-style towel, has velcro fasteners which are easy to secure and release around parents neck, this enables parents hands to be completly free to look after baby during bath time.
When you have one less thing to worry about, it makes anything you do so much more easy. Generously wide and luxuriously soft, shaped as a butterfly to cocoon baby as you lift baby out of bath, it also keeps you keep dry during baby's fun splashes. The organic material is hypo-allergenic, making sure your baby's delicate skin is looked after.
The towel comes in a beautiful towel sack to take swimming with you and/or put all those little socks, hats and mittens in the washing cycle so they do not get lost - as they tend to do!! recommended from newborn to 18months.
My Munchkin Organic Bathrobe is a luxuriously thick, featuring a safety belt which is sewed to the back of bathrobe, preventing toddler from removing belt and playing with it or tripping over it. Bathrobe has elegantly placed embroidery foot prints of either bear in shades of gold or a frog in shades of green.