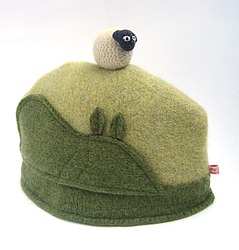 My Baboo is a collection of contemporary designs made in Scotland from traditional materials with a modern twist.
I studied and worked as an architect for nearly twenty years, in the evenings I would relax by knitting. In 2008 I decided to hang up my hard hat and created My Baboo.
Living and working in Stirlingshire overlooking the Campsie Hills provides me with plenty of inspiration. I use pure wool milled in Scotland to create a range of practical and stylish designs that are guaranteed to put a smile on your face.
Choose from cosies, handbags and little creatures, or why not have a go at creating your own My Baboo design with one of my knitting kits, it might just help you relax too!