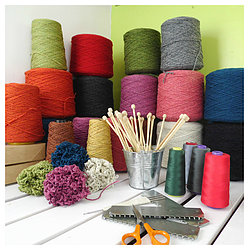 Welcome to My Baboo - our knitting mission is to create fun, high quality designs for you to cherish and most of all will put a smile on your face.
Based in Central Scotland overlooking the Campsie Hills, Lynne, the founder of My Baboo, trained and worked as an architect for nearly 20 years.
In 2008 she hung up her hard hat and turned her love of knitting into My Baboo. 'Being able to create a business form my hobby has been a dream come true and I haven't looked back since.'
The pure wool we use is milled in the north of Scotland in a mill that was established in 1798 and the quality of the yarn really enhances our designs. Our products include tea cosies, clothing accessories, little creatures and knitting kits for you to try yourself - turning everyday items into something special.
Thank you for taking the time to visit our shop, and if you are looking for something truly individual please get in touch - you'll be amazed what we can make from wool!