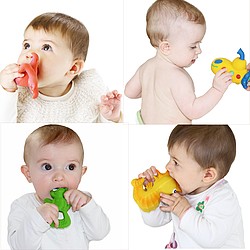 Mushroom & Co. is a family owned business dedicated to promoting safe, non-toxic products for children from all around the world.
Our natural rubber collection includes sensory, teething and bathtime toys. Handmade with natural latex rubber from the sap of a Hevea tree, and hand-painted with permanent lead-free food grade dyes, they are completely PVC, BPA and Phthalate and Nitrosamines free.
The teething toys are brightly coloured, soft to touch and lightweight. Easy to grasp, with a handle for tiny hands which gives a gentle squeak, sure to delight! All this makes them ideal for soothing teething gums and encourages sensory development by stimulating all five senses, sight, touch, hearing, smell and taste. They are easily washable and easy to maintain, and can be an endless source of amusement for your baby.
Natural rubber bath toys are the ones that can be squeezed, squished, chewed and nibbled without possibly hurting the child. Simple design and vibrant colours are the key to a basic yet captivating and interesting bathtime.
Confirms to safety requirements of EN71/1/2/3.
To clean, simply wipe the toy with soapy water and a damp cloth.