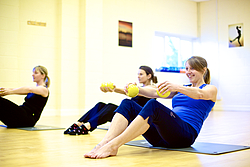 Hello and welcome to Mums 2b FitWear - I design a range of sportswear here in the UK, especially for Mums-to-be and set the business up during the past year, whilst working full time.I've recently won a Mumpreneur UK award for my website in addition to being selected as one of the 'Small Business 100' and attending a reception at 10 Downing Street. Our range has received some fantastic reviews and we hope you like it too. I am also looking to expand the range in the not too distant future.
There are many advantages of exercising when pregnant but women can be limited when it comes to finding good quality, comfortable maternity sportswear, that can grow with your changing shape and still be worn after giving birth.
We know how frustrating this can be and this inspired us to design our Mums2bFitWear™ range of maternity sportswear, as we want every mum-to-be to have access to attractive and practical products that will keep you looking and feeling great while socialising and exercising.
Our range is made using an innovative material, which is moisture absorbent, breathable - keeping you cool and dry, fade resistant, dries quickly and offers great stretch-ability and pings back into its original form after washing, so you can wear it as you get bigger and smaller!