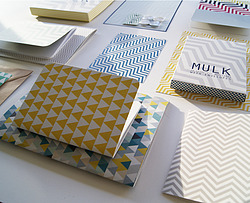 Mulk is a contemporary design brand which creates beautiful stationery products and personalised artwork to compliment the modern home.
Created in December 2012 by Gemma Buller, a former graduate of fashion design, Mulk's very first products were centred around the needs and design ideals of the Buller household, including Gemma's two young boys Beau and Rudy, who where thrilled when they received the first ever Mulk personalised prints.
All of our products are inspired by geometric, modern Scandinavian, Danish and minimalistic design, alongside an absolute love of shapes. We create products that celebrate the beauty of simplistic design and hope to offer you something that is not widely available on the high street, creating high end products for design conscious individuals.
We have a strong green ethos, and where possible products are made using recycled materials. Everything is manufactured in the UK, and is exclusively designed by Mulk. What is most important to us is that our products leave a lasting impression. We want them to be loved and enjoyed, and hope that every special detail we have added is appreciated.