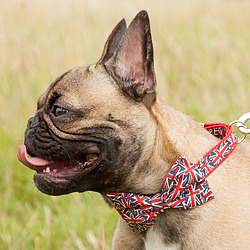 What's this? An open collar? No, no, no. That simply won't do. You're not impressing anyone with that reckless jazz fashion. Who do you think you are, James Dean? Go and see Mrs Bow Tie. She'll sort you out with something befitting a gentleman like yourself. And while we're at it, pick up a pocket square too.
Fred Astaire. James Bond. Donald Duck. All great men, all proud wearers of the bow tie. And what man wouldn't want to follow in at least one of their footsteps? With the collection available in our store you can go from drab to dapper in the amount of time it takes to mix a martini. Time to join the ranks of history's best-dressed gentlemen. And duck.
Mrs Bow Tie is a manufacturer of high quality fashion accessories : we specialise in neckwear for fashion concious men and their dog. Mrs Bow Tie was founded in 2012 when business partners Andy & Lianne joined forces to design, manufacture and retail in-house and bring manufacturing back home to the UK!
The company is growing fast and already stocks over 1000 product styles. Please browse our collection and let us know what you think.