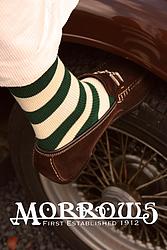 Morrow's is a resurrected family business run by Liverpool based Philip Morrow. Trading began for Morrow's in November 2011 after a gap of 25 years. They launched with a chunky range of socks in stripes and the popular gent's heel and toe style. 2012 saw the introduction of lightweight socks in a new vibrant collection.
Morrow's pride themselves in supporting home industries. Their socks are made in England to the highest standard, using the traditional method of hand linking the toe seam. This provides the wearer with an essentially seamless toe for greater comfort.
Morrow's have maintainted the style and tradition of the old family brand whilst adding a fresh and contempary twist.